CQ offers productivity solutions that incorporate automated and time-saving features that allow you to efficiently manage your data. Each solution focuses on a particular aspect of data management that allows you to efficiently manage data and thus increase your organization's productivity.
CQ-Forms Manager™
Automate and customize forms downloads from mainframe queues.
CQ-Print Administrator™
Unattended print of large recurring files.
CQ-Event Scheduler™
Schedule recurring computer tasks to run unattended.
CQ-File Manager™
Automate and customize recurring data downloads.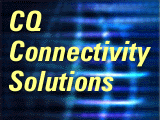 CQ delivers the ultimate in IBM® terminal emulation connectivity solutions by combining the depth and full range of IBM emulation with the simplicity and ease-of-use of the Windows® Graphical User Interface (GUI).
CQ-3770® and CQ-3770EE®
377x SNA/RJE terminal emulation for host/mainframe access for file transfers.
CQ-JCL Generator™
Job Control Language (JCL) script generator.
CQ-3780®
3780/2780 Bisync/RJE terminal emulation for host/mainframe access for file transfers.
CQ-3270® and CQ-3270EE®
3270 SNA terminal emulation for interactive host/mainframe access.
CQ offers security options to meet today's rigorous security standards. CQ's Data Encryption Standard (DES) solutions have been implemented throughout the world for secure, remote data transfer applications.
CQ offers the Triple DES option for the ultimate in secure remote communications between PCs, laptops, and notebooks in the field to mainframe sites anywhere.